NEW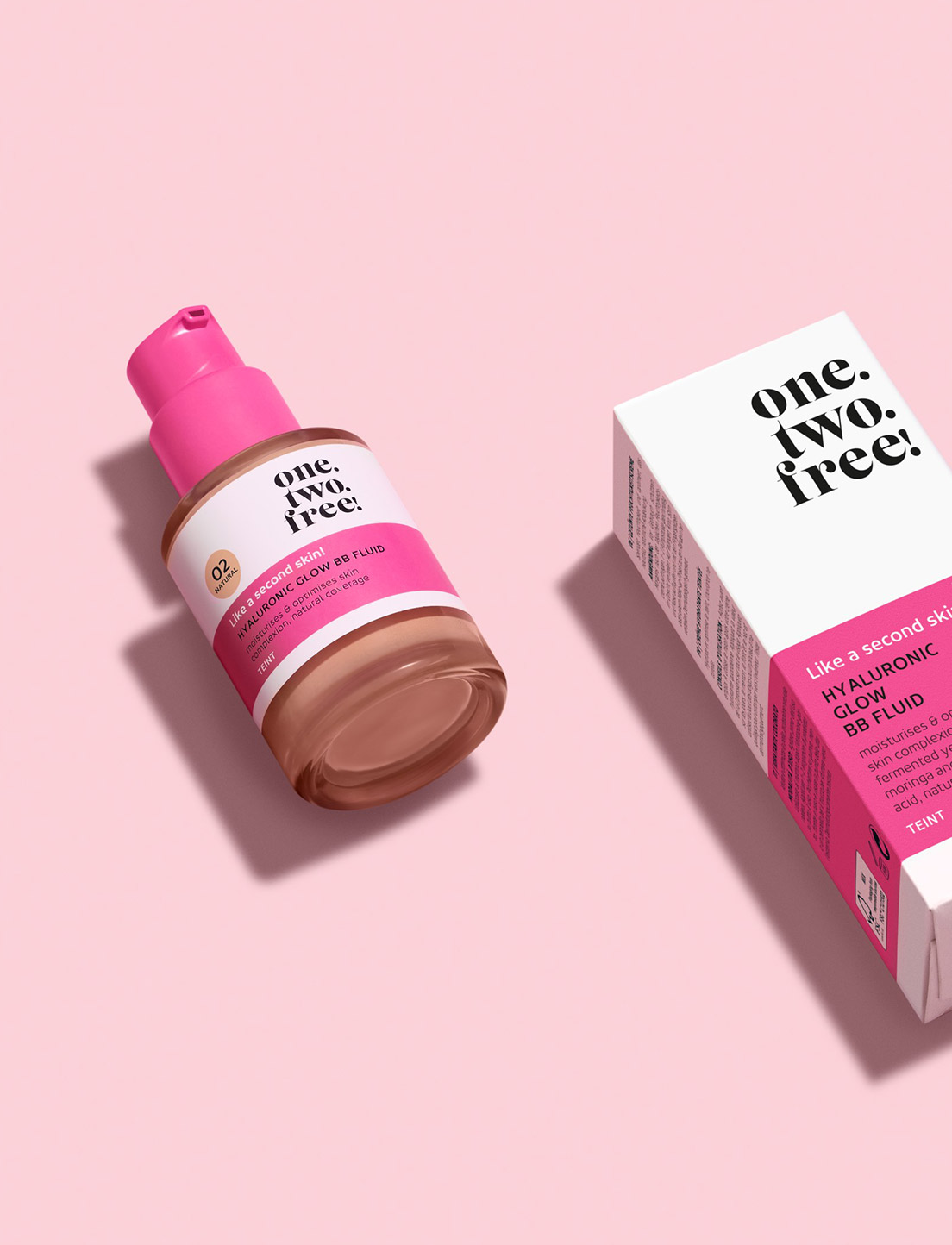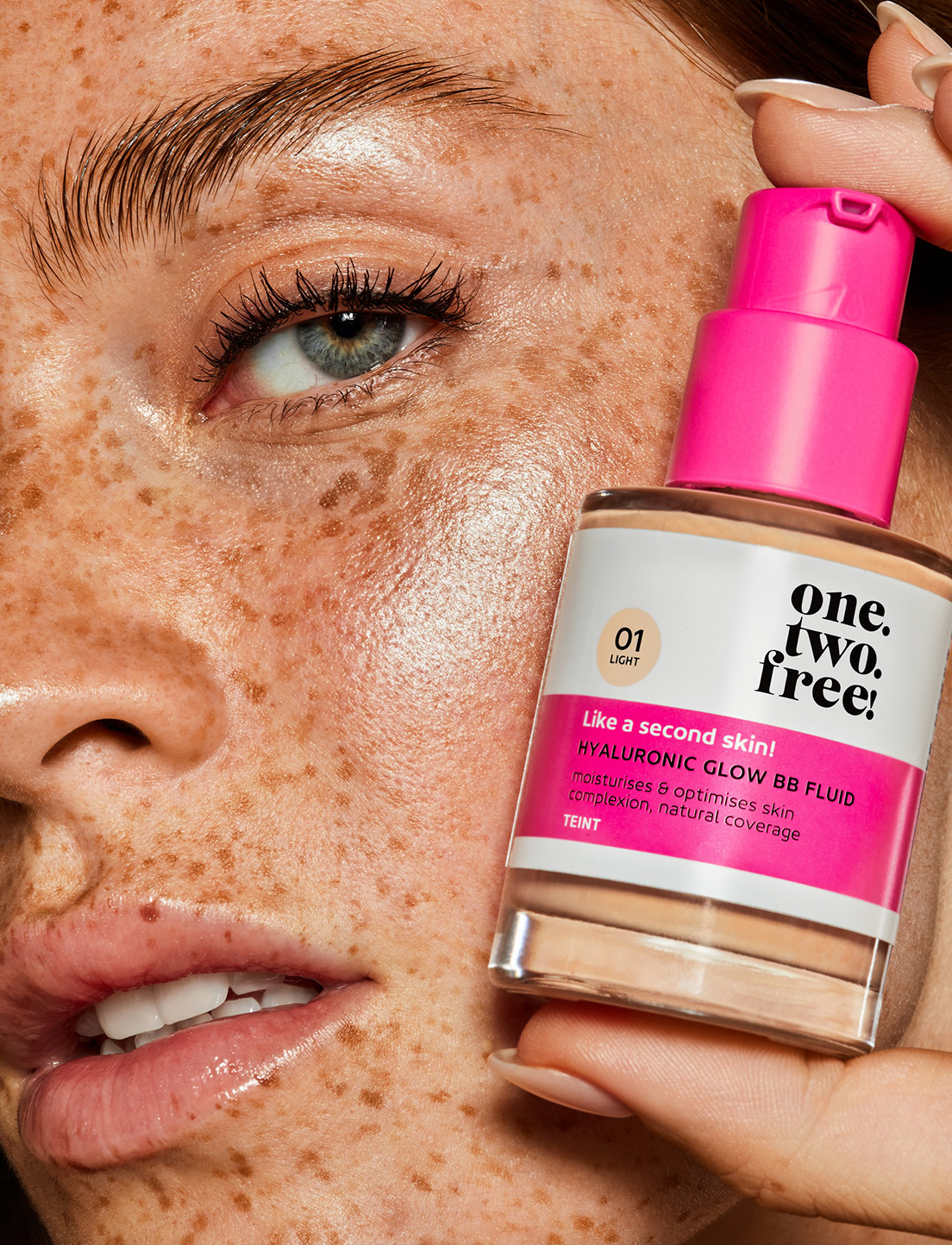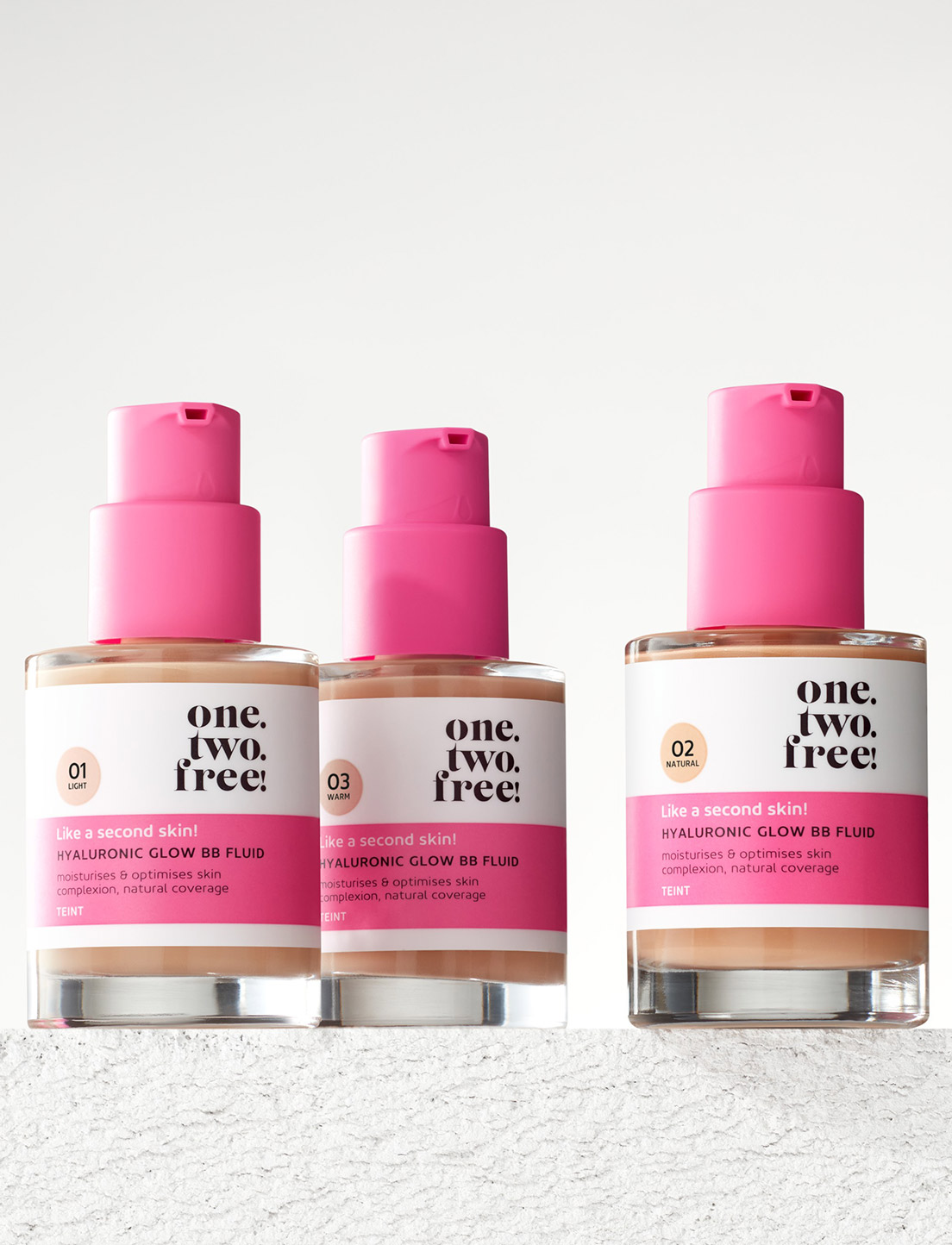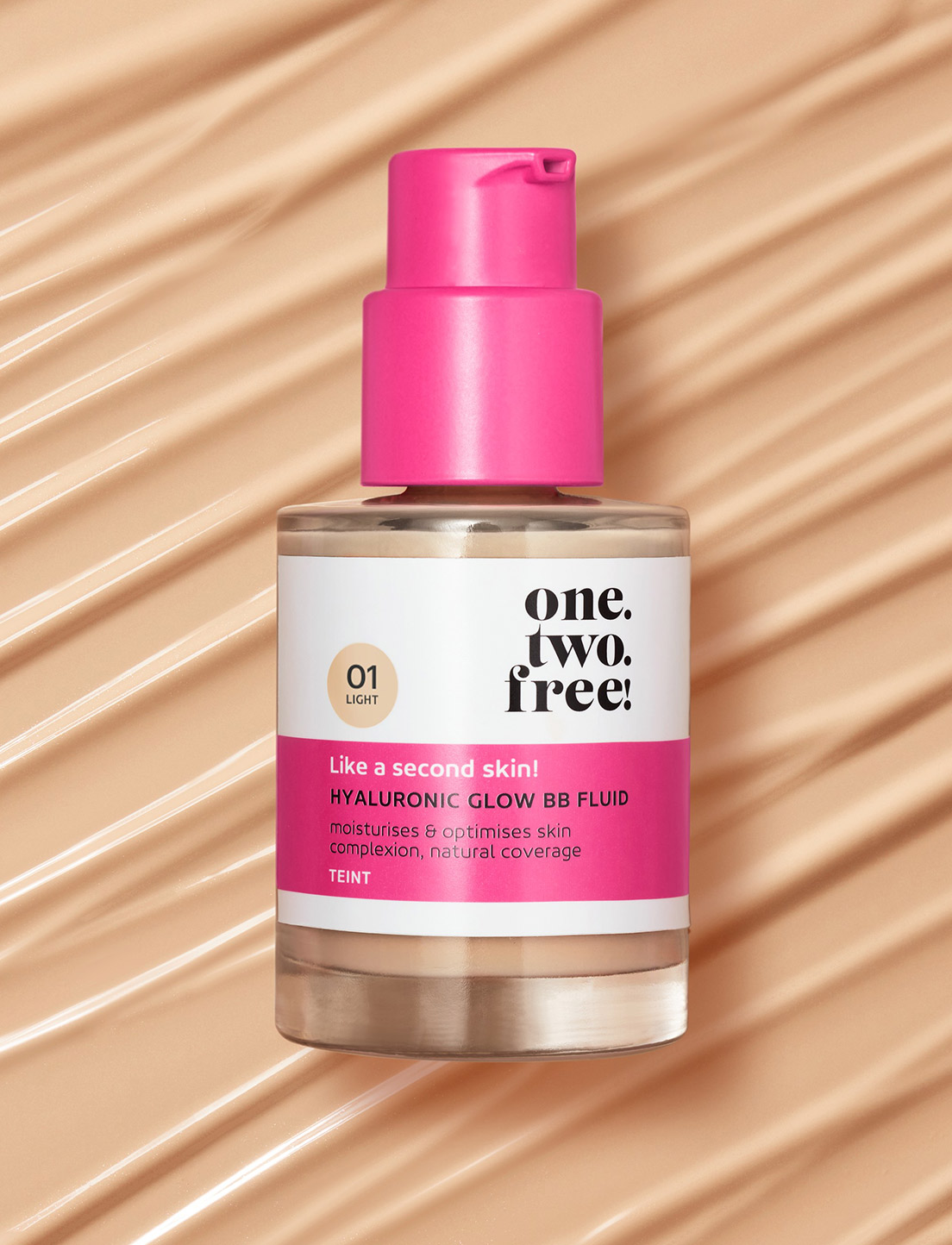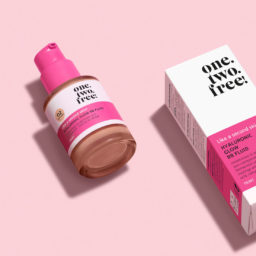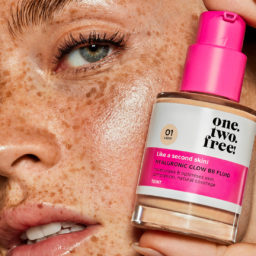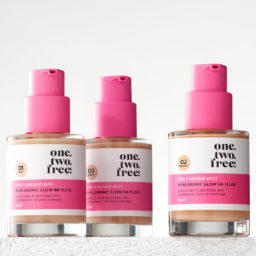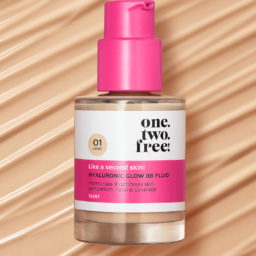 Like a second skin!
Hyaluronic Glow BB Fluid
BB Fluid
Moisturises & optimises skin complexion with fermented yeast, moringa and hyaluronic acid, natural coverage
About the Product
Why we love it

Combines the advantages of a hydrating fluid and a BB cream in one product
The lightweight formula instantly hydrates and creates a natural glowing complexion with a "naked skin" feeling
It provides an ideal blendable and natural coverage leaving the skin looking fresh and radiant
An active agent combination with fermented yeast and moringa extract helps to boost skin renewal to brighten and perfect the skin`s appearance
The combination of hyaluronic acid, shea butter and glycerin nourishes the skin, helping to bind and keep the moisture in for a plumper skin from within

For all skin types. Also suitable for sensitive skin.
How to

Shake well before use. Use in the morning after your daily moisturiser. Apply 1 - 2 pumps all over the face. Dot onto the cheeks, chin, forehead and nose and use your fingertips or a make-up brush to blend outwards.
Sustainability

98% Recyclability Rate
Material: High Quality Glass
Dispenser Pump: Polypropylen (Pp) .
Ingredients

01 Light: Lippia Citrodora Leaf Water, Squalane, CI 77891, Dicaprylyl Ether, Shea Butter Ethyl Esters, Butyloctyl Salicylate, Polyglyceryl-6 Polyricinoleate, Boron Nitride, Propanediol, Polyglyceryl-2 Dipolyhydroxystearate, CI 77492, Polyglyceryl-2 Isostearate, Caprylic/Capric Triglyceride, Disteardimonium Hectorite, Glycerin, Sodium Dehydroacetate, Levulinic Acid, Hydrogenated Lecithin, Sodium Levulinate, Aqua, Hydrolyzed Sodium Hyaluronate, Sodium Benzoate, Butyloctanol, Potassium Sorbate, Pichia Ferment Lysate Filtrate, Cetyl Palmitate, Tocopherol, Sorbitan Stearate, Polysorbate 80, Lapsana, Communis Flower/Leaf/Stem Extract, Moringa Oleifera Seed Extract, Bacopa Monnieri Extract, Magnesium Oxide, Alumina, Glycine Soja Oil, Citric Acid, Palmitoyl Tetrapeptide-10, CI 77491, CI 77499
02 Natural: Lippia Citrodora Leaf Water, Squalane, Dicaprylyl Ether, CI 77891, Shea Butter Ethyl Esters, Butyloctyl Salicylate, Polyglyceryl-6 Polyricinoleate, Boron Nitride, Propanediol, Polyglyceryl-2 Dipolyhydroxystearate, CI 77492, Polyglyceryl-2 Isostearate, Caprylic/Capric Triglyceride, Disteardimonium Hectorite, Glycerin, Sodium Dehydroacetate, Levulinic Acid, Hydrogenated Lecithin, Sodium Levulinate, Aqua, Hydrolyzed Sodium Hyaluronate, Sodium Benzoate, Butyloctanol, Potassium Sorbate, Pichia Ferment Lysate Filtrate, Cetyl Palmitate, Tocopherol, Sorbitan Stearate, Polysorbate 80, Lapsana, Communis Flower/Leaf/Stem Extract, Moringa Oleifera Seed Extract, Bacopa Monnieri Extract, Magnesium Oxide, Alumina, Glycine Soja Oil, Citric Acid, Palmitoyl Tetrapeptide-10, CI 77491, CI 77499
03 Warm: Lippia Citrodora Leaf Water, Squalane, Dicaprylyl Ether, CI 77891, Shea Butter Ethyl Esters, Butyloctyl Salicylate, Polyglyceryl-6 Polyricinoleate, Boron Nitride, Propanediol, Polyglyceryl-2 Dipolyhydroxystearate, CI 77492, Polyglyceryl-2 Isostearate, Caprylic/Capric Triglyceride, Disteardimonium Hectorite, Glycerin, Sodium Dehydroacetate, Levulinic Acid, Hydrogenated Lecithin, Sodium Levulinate, Aqua, Hydrolyzed Sodium Hyaluronate, Sodium Benzoate, Butyloctanol, Potassium Sorbate, Pichia Ferment Lysate Filtrate, Cetyl Palmitate, Tocopherol, Polysorbate 80, Sorbitan Stearate, Magnesium Oxide, Alumina, Bacopa Monnieri Extract, Lapsana Communis Flower/Leaf/Stem Extract, Moringa Oleifera Seed Extract, Glycine Soja Oil, Citric Acid, Palmitoyl Tetrapeptide-10, CI 77491, CI 77499
Complete your Routine